I mentioned in my marshmallow post that they were destined for something great. And when I think of marshmallows, I think of s'mores. In the absence of a campfire, I'd considered toasting them on our new gas stovetop, but common sense took over before I dropped a molten marshmallow on the heating elements. Therefore, I decided to make something that resembled the classic s'more but doesn't depend on the availability of an open flame. This meant I got to try making another childhood favorite – graham crackers.

I don't know whether to call this a cracker or a cookie dough. It definitely feels more like a cracker when it comes out of the oven, but it still feels like a cookie to me. It was a little unusual as I felt like I had to treat it almost like a pie crust; the recipe involves frozen butter cubes mixed into the dough to form a coarse meal texture, liquids are mixed in until just combined and the dough has to rest in the refrigerator before use. The picture shows what my dough looked like just prior to dumping it into the plastic wrap. It's ok if it doesn't become one big dough ball. Once you dump it out into the plastic wrap, it will easily form together into a log.
They baked a lot faster than I expected, so some got a little browner than I had hoped. But these were delicious. I assumed as well that without the use of graham flour, the crackers wouldn't really taste like the graham crackers I was expecting. That couldn't be farther from the truth. They reminded me of cinnamon Teddy Grahams or the store bought cracker sheets, minus all the preservatives and fake flavoring. The main difference I noted was the texture. Where store-bought graham crackers are incredibly crumbly, the home baked version is much more sturdy. The ones out of the boxes can essentially be turned to dust by just crushing them with your hand. These would definitely need a food processor if you wanted graham cracker crumbs.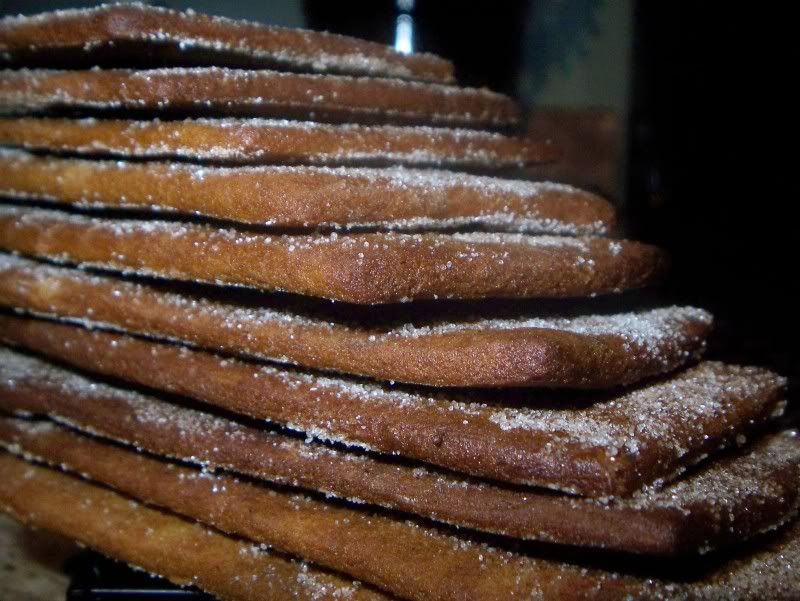 Graham Crackers
Adapted from From Nancy Silverton's Pastries from the La Brea Bakery (Villard, 2000)

Ingredients
1 1/4 cups plus 1 tablespoons unbleached all-purpose flour (I used bleached KAF but only because unbleached isn't offered, they say that their bleached acts as unbeached would in any recipe.)
1/2 cup dark brown sugar, lightly packed
1/2 teaspoon baking soda
1/2 teaspoon kosher salt
3 1/2 tablespoons unsalted butter, cut into 1-inch cubes and frozen
2 Tbsp plus 2 teaspoons mild-flavored honey, such as clover
2 Tbsp plus 1 1/2 teaspoons whole milk
1 tablespoons pure vanilla extract
For the topping:
1 Tbsp plus 1 1/2 teaspoons granulated sugar
1/2 teaspoon ground cinnamon
Directions

In the bowl of a food processor fitted with the steel blade or in the bowl of an electric mixer fitted with the paddle attachment, combine the flour, brown sugar, baking soda, and salt. Pulse or mix on low to incorporate. Add the butter and pulse on and off on and off, or mix on low, until the mixture is the consistency of a coarse meal.
In a small bowl, whisk together the honey, milk, and vanilla extract. Add to the flour mixture and pulse on and off a few times or mix on low until the dough barely comes together. It will be very soft and sticky.
Turn the dough out onto a lightly floured work surface and pat the dough into a rectangle about 1 inch thick. Wrap in plastic and chill until firm, about 2 hours or overnight.
To prepare the topping: In a small bowl, combine the sugar and cinnamon, and set aside.
Divide the dough in half and return one half to the refrigerator. Sift an even layer of flour onto the work surface and roll the dough into a long rectangle about 1/8 inch thick. The dough will be sticky, so flour as necessary. Trim the edges of the rectangle to 4 inches wide. Working with the shorter side of the rectangle parallel to the work surface, cut the strip every 4 1/2 inches to make 4 crackers. Gather the scraps together and set aside. Place the crackers on one or two parchment-lined baking sheets and sprinkle with the topping. Chill until firm, about 30 to 45 minutes. Repeat with the second batch of dough.
Adjust the oven rack to the upper and lower positions and preheat the oven to 350 degrees.
Gather the scraps together into a ball, chill until firm, and reroll. Dust the surface with more flour and roll out the dough to get about two or three more crackers.
Mark a vertical line down the middle of each cracker, being careful not to cut through the dough. Using a toothpick or skewer, prick the dough to form two dotted rows about 1/2 inch for each side of the dividing line.
Bake for 25 minutes, until browned and slightly firm to the tough, rotating the sheets halfway through to ensure even baking.
Yield: 10 large crackers


As for the end result of my marshmallow/graham cracker experiment – all I can say is "yum." While I still yearn for the toasty, melty campfire s'mores, this little treat encompasses all that is good about those treats, and will be holding me over until my next campfire.

It's as easy as:

1.

2.

3.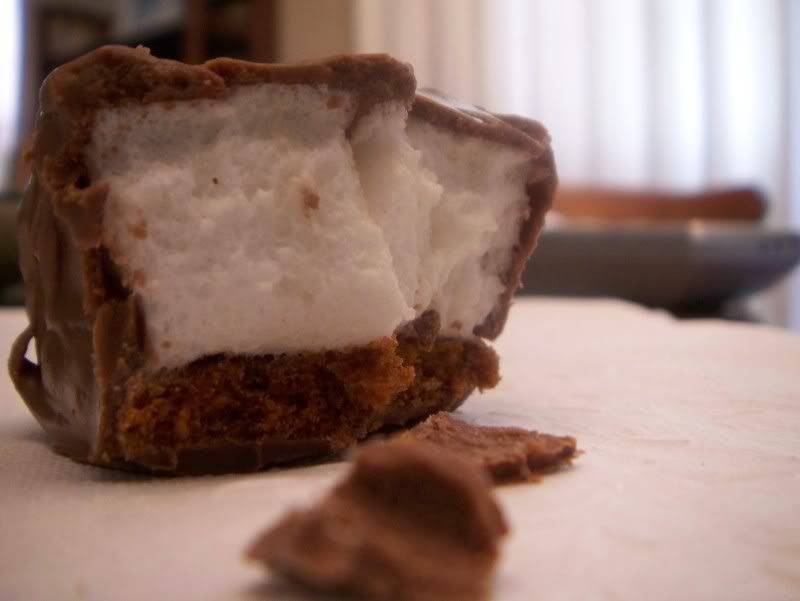 Giggity. (ETA, I figured out why I loved these so much, they remind me exactly of Moon Pies!! I'm smitten, infatuated, obsessed...I'm hooked.)