Happy Cinco de Mayo!

Hope you are all able to enjoy a little fiesta! I love Mexican food. Not only is it delicious but it's also fun to say. You've got your chalupas, taquitos chihuahua cheese and m y personal favorite, chimichangas. Try saying it 3 times fast without cracking a smile.

Chimichanga, chimichanga, chimichanga!

Oddly enough, as much as I like the appetizers and entrees at Mexican restaurants, I am always the person that will take an extra serving of black beans in lieu of my helping of rice because I rarely enjoy the bland, dried out orange rice that inevitably ends up on my plate. So I'm not really sure what made me decide that I'd attempt Mexican rice when I was unsure I'd even like what came out of the oven. I'm glad I gave it a chance.

This rice is fluffy without being dry, and has a wonderful flavor with just the slightest 'zip' from the jalapeño peppers. The fresh cilantro and lime juice really brighten the final dish. As usual for me, the assembly of this dish is pretty simple – I dirtied one pot, one knife, two cutting boards, a food processor and a wooden spoon. The only complication may be having an oven-safe pot with lid that you can take from stovetop to oven.

Next time I will add even more jalapeño because the dish wasn't quite spicy enough for our tastes, but I will also make sure to use gloves when I dice them. My pepper gloves that I used for my experiment with habaneros were enlisted for stripping the paint off of our deck last weekend and I forgot to purchase a new pair before preparing this dish. Next time, I will make sure to have them, my fingers were burning for a good twelve hours after I finished the dish.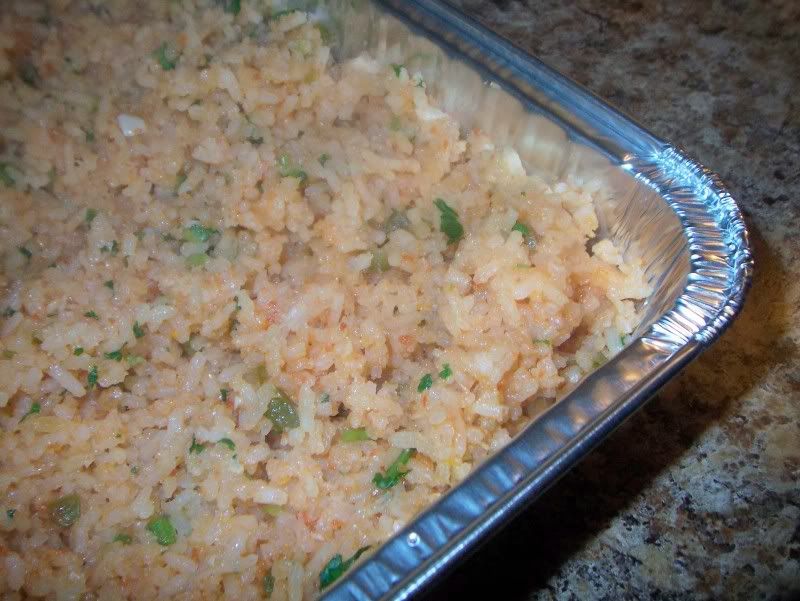 Mexican Rice
serves 8 as a side
Adapted From A Pot of Tea and a Biscuit blog

14.2 oz canned chopped tomatoes
1 medium onion, roughly chopped
3 medium jalapeno peppers or canned jalapenos
2 cups long grain white rice
canola oil
4 garlic cloves, minced
2 cups chicken stock
1 1/2 teaspoons salt
1/2 cup fresh cilantro, chopped
1 lime juiced

Preheat your oven to 350F.

Process tomato and onion in processor or blender until pureed and thoroughly smooth. This should make two cups. I must have had a giant onion, because I ended up with nearly 2 1/2 cups of liquid. I measured out two cups from my liquid to add to the dish versus pouring in all of my puree.

De-seed and finely chop the jalapeno peppers. If you're using canned/pickled jalapenos, just chop them.

Put your rice in a fine sieve or colander and rinse thoroughly for about 2 minutes. (I rinsed mine even longer.) The water should run clear after that time which means that the excess starch is removed. Cover the sieve/colander and shake well to remove any rest starch still in the rice. This is really important so that the rice is fluffy and not sticky.

Heat some oil (I did about 2 Tbsp) in heavy bottomed ovenproof pan with tight fitting lid over medium high heat about 2 minutes. The oil should sizzle when you drop in a few rice grains. Add the rice and stir fry until the rice is light golden and translucent. This takes about 6-8 minutes (I cooked closer to 10).

Reduce heat and add garlic together with 2/3 of the chopped jalapenos and cook, stirring constantly for about 1 1/2 minutes.

Add the chicken stock, the pureed tomato/onion mixture and salt. Increase heat to and bring to a boil.

Cover the pan and place it in the middle of your oven to bake until the liquid is absorbed and the rice is tender. That should take about 30-35 minutes. Stir once after 15 minutes.

Add the rest of the jalapeno, the chopped fresh cilantro and the lime juice.