Last week I ventured back into the world of risotto with a recipe out of the current Cooking Light magazine. It called for a small amount of asiago cheese which, of course, meant we had to buy a wedge that was four times more than what was needed for the recipe. Before the cheese even landed in my basket, I already knew how I would use the excess.

I love pretty much any bread plus asiago cheese combination, and the leftover cheese was just dying to be mixed into a loaf of bread. Inspired by King Arthur Flour's baking blog, which featured a loaf of Three-Cheese semolina bread, I created somewhat of my own recipe to make the bread with the ingredients I had on hand. I ventured on my own after mistakenly using semolina flour instead of semolina, and just went on my own tangent from there. I also don't use instant yeast, so I had to re-vamp the recipe slightly to allow my yeast to bloom before using in the recipe.

Bread is a pretty simple formula - water, yeast, flour, sometimes salt, and whatever add-ins you want. Recently I bought semolina flour for use in my pizza dough, but have wanted to see what affects it would have on my breads as well. So not only does this recipe use bread flour, but it calls for semolina flour, too. The grated asiago cheese adds a nice saltiness to the dough, but I think the best surprise in this recipe is the garlic-infused olive oil. It adds another depth of flavor that makes this bread so wonderful. Next time I may roast the garlic first, so that I can mix all the garlic and olive oil in with the dough.

The bread has a soft exterior and is wonderfully soft inside, without being airy. There are some 'extra large' holes throughout the bread are little cheesy pockets of goodness. I will have to make sure that next time I'm not so insane with the knife when I'm slicing the tops of the loaves prior to baking. I sliced them a little too deep. At least it doesn't affect the flavor of the bread, but it does make for some funny-shaped slices.

Already I have eaten it toasted with butter, and topped with pizza sauce, fresh mozzarella, oregano and basil. I think some of the leftovers are destined to be cut into cubes and toasted for some killer croutons.

The recipe calls for one large loaf or two smaller loaves, but I divided my dough into four, making three small, grapefruit sized boules and one epi style loaf. It makes more reasonable sandwich slice sizes for me, and I can also give away a whole loaf without it being an indecent amount of bread.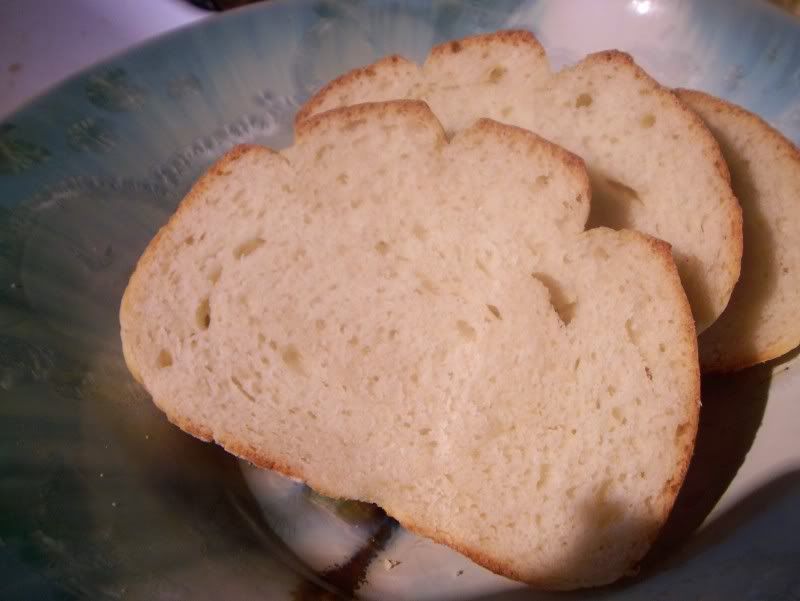 Asiago Cheese Semolina Bread
Makes 1 large loaf or two smaller loaves

2 c Bread Flour
1 c Semolina flour
2 tsp Active dry yeast
1 tsp salt
2 Tbsp oil
3 cloves garlic, peeled and slightly smashed
1 c and 1/4 c water, divided
3 c grated asiago cheese
flour or cornmeal for sprinkling

In a small saucepan, put olive oil and three cloves of garlic. Keep over low heat until aromatic, about 5 minutes. Remove from heat, remove garlic cloves from oil and set aside.
In a small bowl, mix yeast and 1/4 c water (which should be around 110-115 degrees F). Let sit for 5 minutes.
In the bowl of your stand mixer, mix bread flour, semolina flour, and salt until combined.
Add yeast mixture, garlic-infused oil and 1 c water until dough comes together. Your stand mixer will most likely start struggling once the dough starts coming together. Switch over to the dough hook and let it go for 15-20 minutes on medium. The dough will become smooth and elastic.
Put dough in a lightly greased bowl covered with lightly greased plastic wrap and let sit for about 2 hours, or until doubled in size.
Line a baking sheet with parchment paper. Sprinkle flour or cornmeal onto the pan.
Gently deflate the dough and shape it into whatever you want. Tent lightly with plastic wrap and let rise for about an hour, or until puffy. Preheat the oven to 425 degrees when the rise time is nearly complete.
Remove the plastic wrap and spray loaf or loaves with water. Using a sharp knife, slash loaves in whatever design you want in the top.
Bake for 30 minutes and then check the internal temperature. The bread is done when the temperature reaches 190 to 200 degrees F.
Put bread on rack to cool completely.