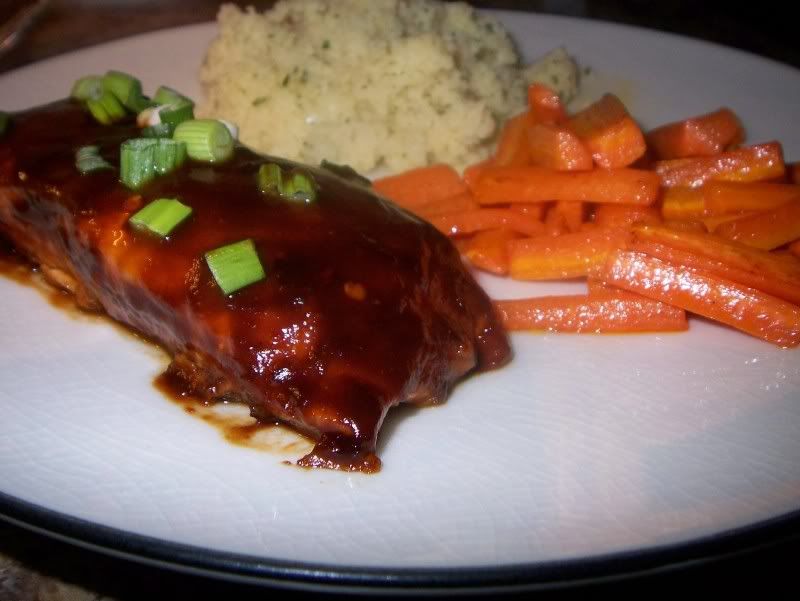 While I love seafood, for some reason, I'm not a huge fish eater. I'm not really sure why. It's not that I don't enjoy it, I just rarely order it in a restaurant when presented with other options. Maybe its my fear of getting fish that's less-than-fresh, because seafood seems to be a lot more sensitive to storage times and spoilage. And I've noticed too that if I'm ordering fish for dinner, it's going to most likely be ahi tuna, tilapia or salmon. For a long time, our fish consumption was almost entirely limited to eating out at seafood restaurants.

I don't know what prompted my husband and I to start buying salmon. Maybe it had to do with the fact that we found frozen 6 ounce portions for a good price. Maybe it had to do with my suggestion that we should cut down on our red meat intake and consequently needed to find a satisfying substitute. Either way, I'm glad we've started including it in our diets. Salmon is a great source of healthy omega-3 fatty acids: eicosapentaenoic acid (EPA) and docosahexaenoic acid (DHA) (source), which have demonstrated benefits at reducing heart disease. They also have high levels of vitamin d, protein, and vitamins B3 and B12. The American Heart Association recommends two servings of salmon or other oily fish a week.

How often is something so healthy also delicious? I'm looking at you, lima beans.
My mother in law found this recipe and it was an immediate hit with our family. We enjoyed it so much that we now have the recipe and prepare it often.

Be good to your heart (and your taste buds!) and give this recipe a try. You won't be sorry!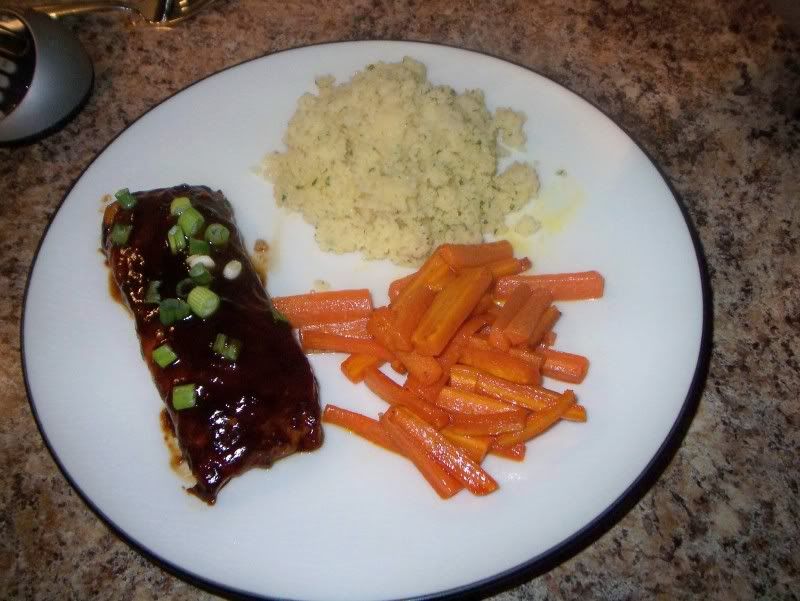 Spicy Hoisin Salmon
Adapted From Parents Magazine
Serves two
1/4 c hoisin sauce
2 Tbsp soy sauce
2 tsp rice vinegar
1/2 tsp ground ginger
1/4-1/2 tsp red pepper flakes
2 pieces salmon, about 6 oz each
2 green onions, trimmed and thinly sliced
Heat oven to 450 degrees. Coat a baking dish with nonstick spray.
In a small dish, stir together the hoisin, soy sauce, vinegar, ginger and red pepper flakes. Place salmon in prepared dish and spead top of each fillet with half of hoisin mixture.
Roast at 450 degrees for 10 minutes. Spread remaining hoisin mixture over the salmon and top with sliced green onions. Roast an additional 5-10 minutes (ours usually take 10) or until salmon is done.
I served it with a mushroom and herb couscous and roasted carrots.