Prompted by a contest by Coconut and Lime, I decided to try my hand at coming up with a recipe that incorporates both coconut and lime as key ingredients. I enjoy Black Bottom Cupcakes, but rarely do you see any variations on the chocolate base with chocolate-chip cheesecake-like filling. My quest was to make a coconut cupcake filled with a key lime cheesecake filling. Without getting into the gory details, I will say that the first batch was, without sugarcoating it, a disaster. Since I was experimenting, I decided to not only make my 'creation' but also the original version of a black bottom, as a 'control' if you will. I discovered a few things. Halving a wacky cake recipe doesn't work – the vinegar and baking soda are in specific proportions in the original recipe and my cupcakes ballooned out of their respective tins, only to collapse in on themselves and never truly set up. I also found out I like chocolate a little too much. I forgot to adjust the amount of chocolate chips from the original recipe and the result was a melted chocolate pool in the bottom of each cupcake that I'm sure also contributed at least partially to the cupcake collapse. Finally, wacky cake is a thin batter meaning the coconut that I so lovingly toasted and mixed into the batter sunk straight to the bottom instead of remaining suspended like I had expected. Oops. I didn't take pictures because I was too busy trying to mitigate the damage to my muffins tins. After a good two hour soak and scrub they are mostly back to normal.

After those unsuccessful trials in the kitchen, I took a new approach. I decided to ditch the wacky cake batter in favor of a true coconut cupcake and then spoon in the filling. Success! Well, mostly. The cupcake came out a little more dense than anticipated, but it was still good. It seemed like what you would get if a tart shell and cupcake had a love-child filled with key lime cheesecake. It wasn't quite a cupcake because it wasn't as fluffy as you'd expect, but it wasn't a tart, either. The tartcake was born!

The hubs - who doesn't like coconut – offered to be a taste-tester for me, but only had one bite because, go figure, he didn't like that it tasted like coconut. He couldn't even make it to the key lime filling. But don't feel bad because he didn't like the cupcake. There was some extra filling leftover, so I put that in a ramekin and baked it off for a little bit so he was able to get a crustless mini key lime cheesecake out of the deal. That, for the record, he did enjoy.

After having one, I am pleasantly surprised at my first black-bottom inspiration attempt. Just because it wasn't exactly what I was envisioning didn't make it any less delicious. A coconutty cupcake with a tangy, creamy key lime cheesecake filling.

Thanks to Coconut and Lime for hosting this contest, and even if I don't win the contest, I'm a winner because I go the confidence to try something totally new, and to persevere even after my initial miserable failure! (Which is a miracle considering what a pain in the rear juicing those itty bitty key limes is! I'm glad I have my juicer!)

Next time I try these I may try a different cupcake recipe to see if the density was a result of the cupcake recipe or a result of adding in the cream cheese filling and consequently changing how a normal cupcake would have baked.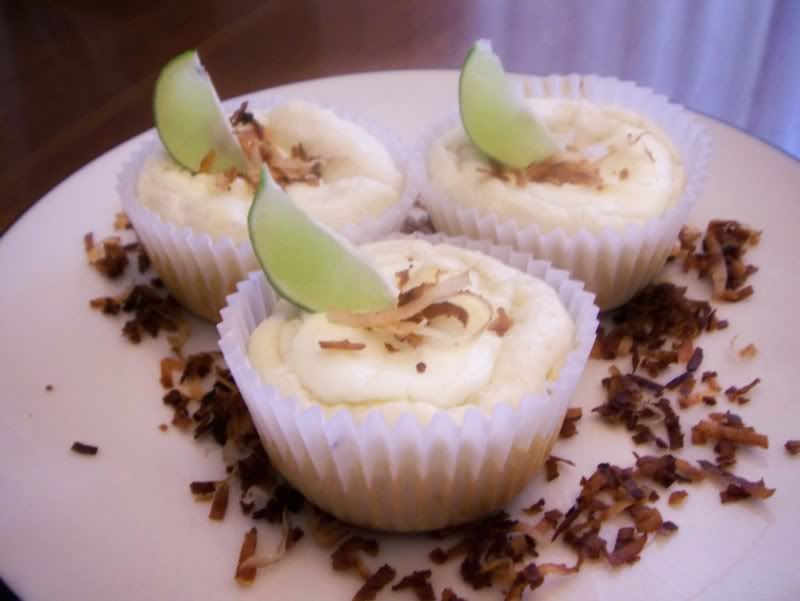 Put the (Key) Lime (Cheesecake) in the Coconut (Tartcakes)
Adapted From
Domestic Diva Mysteries
and
Cookie Madness


Filling
5 oz cream cheese
2 Tbsp plus 2 tsp Sugar
1 Tbsp key Lime Juice
1 Egg White
2 tsp Sour Cream

Cupcakes:
1 cup flour
1 teaspoon baking powder
1/4 teaspoon salt
1/2 cup plus 2 tablespoons sugar
1 egg
¼ c milk and 1/3 cup milk, divided
1/3 cup heavy cream
1/2 cup shredded coconut
½ tsp coconut extract

Directions
Preheat the oven to 350 degrees. Place cupcake liners in the cupcake pan.
Make the filling: Beat the cream cheese, sugar and salt until smooth. Add the egg white and stir or beat on low speed just until mixed; stir in the sour cream and lime juice. Set aside.

Make the tartcake: Combine the flour, sugar, baking powder, shredded coconut, and salt, and mix with a fork.
Separate the egg. Beat the egg white until it forms gentle peaks, but isn't dry. Set aside.

Beat the egg yolk briefly, slow the mixer and add add ¼ c of milk. Slowly add some of the flour mixture. Alternate adding the liquids and the rest of the flour mixture.

Spoon one tablespoon of cheesecake mixture into each liner, making sure to sink the filling down a little into the cupcake.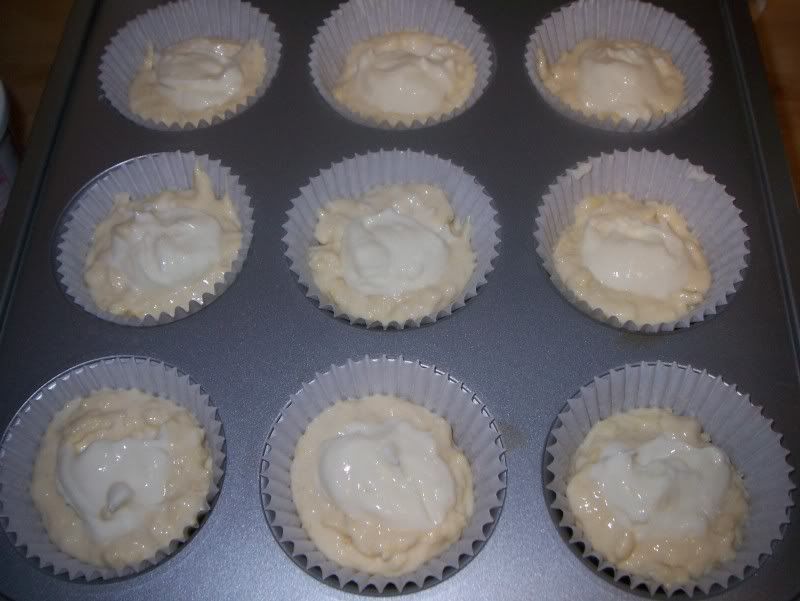 Bake on center rack for 22-25 minutes.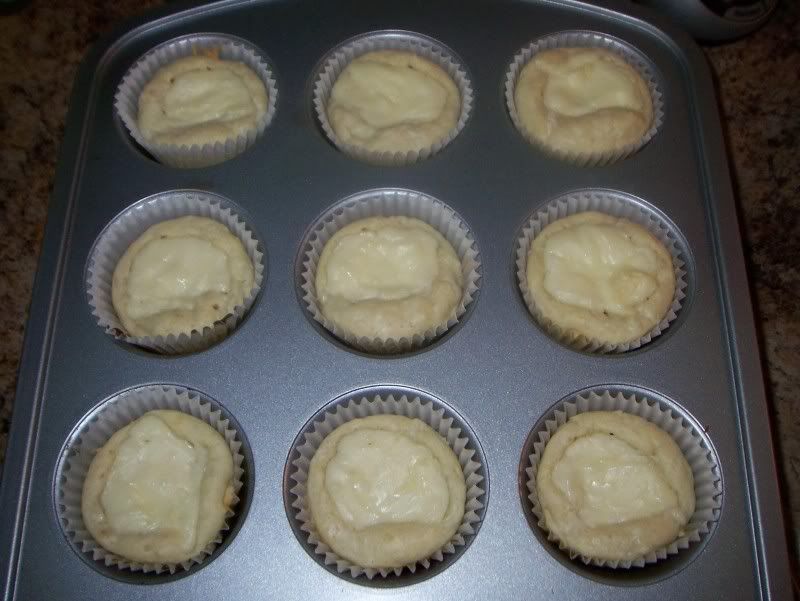 Let cool in cupcake pan for 30 minutes and then transfer to the refrigerator to chill.

This made 11 cupcakes for me with a little filling leftover.