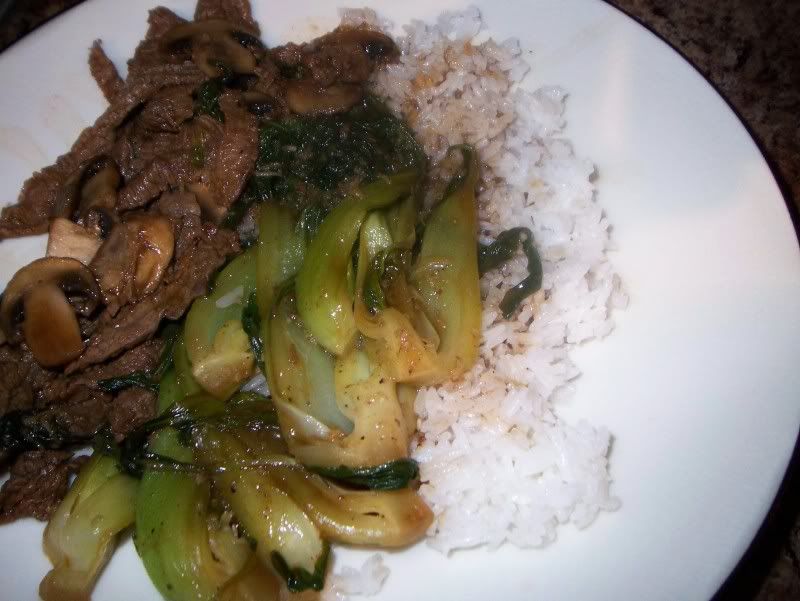 I'm an impulse buyer when it comes to food magazines. They have such pretty pictures on the covers and tote headlines promising meals on the table in under half an hour; it totally sucks me in. Though I love browsing the more gourmet magazines, I have found that the ones typically in my hand at checkout time are Real Simple and Cooking Light. No matter what other magazines I'd browse on a whim, I always gravitate back to these two, mainly because I've had the most success finding recipes that have become staples in our repertoire. This magazine had a two-week meal planner and the Asian flavors of this recipe piqued our interest. The fact that is an easy, delicious recipe to prepare with only a few ingredients already stocked in our pantry is why it keeps returning to our household menu rotation.

I've modified the recipe because, while I've found the amount of meat sufficient, I was starving for more vegetables the first time around. We used the same amount of baby bok choy that is in the four-person recipe for our two-person dinner. The other change was that my husband, the sauce man, insisted that I keep the amount of sauce in the recipe the same versus halving it for our dinner. I've already made this dish several times, but, this last time, I also added leftover sliced button mushrooms that were in our fridge. I'd highly recommend adding them if you have some lying around. I'm pretty sure this has now become a permanent recipe amendment for our dinner table.


Beef and Bok Choy Stir Fry
Serves 2
Adaptd from Real Simple Magazine, October 2009

Ingredients
1/2 cup long-grain white rice
1/2 tablespoon olive oil
1/2 pound flank steak, thinly sliced
4 oz mushrooms, sliced
kosher salt and black pepper
4 heads baby bok choy, quartered
1/4 cup low-sodium soy sauce
2 tablespoons rice vinegar
1 tablespoon grated fresh ginger
1 tablespoon brown sugar

Directions
Cook the rice according to the package directions. Meanwhile, heat the oil in a large skillet over high heat. Season the steak with 1⁄4 teaspoon each salt and pepper and cook, turning often, until cooked through, 3 to 4 minutes. Transfer the steak to a plate.
Wipe out the skillet. Add mushrooms, season with salt and pepper and saute until cooked down. Transfer onto the plate with the steak.
Add the bok choy and 1⁄4 cup water and simmer, covered, until tender, 3 to 4 minutes.
Meanwhile, in a bowl, mix the soy sauce, vinegar, ginger, and sugar. Add to the bok choy in the skillet and bring to a boil. Add the steak, mushrooms and any accumulated juices and cook, tossing, until heated through, 1 to 2 minutes. Serve over the rice.